This article is about Barb, the character from Lifetime's Witches of East End series.
You were maybe looking for the character from Melissa de la Cruz' novels ; see Tabitha Robinson.
---
"
Like, if this were a movie, right now would be the moment when the girl who thought she was ordinary finds out she's actually magic and that the power was within her all along.
"

— Barb to Ingrid when she realised the spell worked.

Barb is a friend and colleague of Ingrid Beauchamp, working with her at the East End Public Library. She and her husband have been trying to have a child for years, but for some reason, have never managed to... that is, until Ingrid's magic came into play.
Biography
Edit
Shouldn't there be, like, flashing lights or a puff of smoke or something?

— Barb about the fake fertility spell.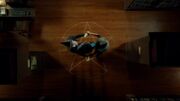 For years, Barb had been trying to get pregnant but after another failed attempt with IVF, her doctor told her it would take a "miracle". When she was at work at the
East End library
, she jokingly asked her friend
Ingrid Beauchamp
, who happened to know a lot about witchcraft and occult practices, to cast a spell on her. If Ingrid first refused, she then came around the idea and thought it would do no harm to try it for fun. So Ingrid, Barb and
Hudson Rafferty
met after work to do the fertility spell, which apparently did nothing.
The next day however, after she had sex with her husband, Barb had a dream of Ingrid handing her a baby. In the morning, she took the test and discovered she was finally pregnant, so she went to thank Ingrid, knowing something truly magical had happened. Ingrid had a hard time believing it at first, but Barb was sure the spell had something to do with it. [1]
Relationships
Edit
Ingrid: Barb and Ingrid have been good friends ever since they started working together at the library, often spending some time discussing with Hudson when there was no client in. When Barb finally got pregnant thanks to Ingrid, she even asked to be godmother to the child.
---
Hudson Rafferty: Barb and Hudson are close friends and co-workers, and are often seen joking around together and making light fun of Ingrid.
Miscellaneous
Edit
Appearances
Edit
In the novels, her character could not get pregnant because of the silver poison that was floating around North Hampton - which Ingrid removed with her healing knots.
References
Edit
Ad blocker interference detected!
Wikia is a free-to-use site that makes money from advertising. We have a modified experience for viewers using ad blockers

Wikia is not accessible if you've made further modifications. Remove the custom ad blocker rule(s) and the page will load as expected.