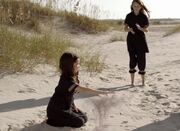 Ingrid Beauchamp
was the reincarnation of the Salem Ingrid.
Biography
Edit
This incarnation of Ingrid was born around 1694, after her previous death in the Salem Witch Trials. At the age of 10, she is seen applauding her sister Freya while she creates a tornado of sand on the beach under Joanna's guidance.[1]

Miscellaneous
Edit
Appearances
Edit
Freya's poisoning with Ramus Mortium is likely what triggered Ingrid's death.
References
Edit
Ad blocker interference detected!
Wikia is a free-to-use site that makes money from advertising. We have a modified experience for viewers using ad blockers

Wikia is not accessible if you've made further modifications. Remove the custom ad blocker rule(s) and the page will load as expected.