Home
Talk

0
345pages on
this wiki
Welcome to the Blue Bloods Universe wiki,


a collaborative webiste dedicated to the wonderful world of Melissa de la Cruz,
the Blue Bloods series and the Witches of East End novels and television series.
Feel free to help this wiki grow and join the community!

About • Articles • Admins • Layout guidelines • Affiliates
THE SPOTLIGHT IS ON...
Please note that nearly every page contains spoilers from either the books, the series, or both.
ABOUT WITCHES OF EAST END
Witches of East End centers on the mysterious Beauchamp family: free-spirited Joanna and her two daughters, wild-child Freya and shy Ingrid, both of whom are unaware that they are cursed with a magical birthright. But when Joanna's long-estranged sister Wendy shows up with a warning that could change the Beauchamps' fate forever, Joanna is forced to reveal to her daughters that they are immortal witches who possess great untapped powers. With their idyllic small town life now turned upside down, and a formidable and ancient enemy intent on ending their family line, will Freya and Ingrid be able to accept their true potential before it is too late?
CHARACTERS
FEATURED NOVEL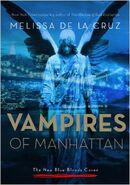 Vampires of Manhattan is the first novel in the sequel to the Blue Blood series that takes place a few years after the events of Gates of Paradise. Oliver Hazard-Perry, Manhattan's only human-turned-vampire, is now the head of the Blue Bloods Coven. But when his human lover is found murdered on the eve of the coven's annual Four Hundred Ball, Oliver is devastated. Now, despite his efforts to create a new world order for the immortal elite, he has become the prime suspect and is stalked by the newly installed head of the vampire secret police. But, how can an immortal sentenced to die fight back? (more...) — Out in stores now!
THE BLUE BLOODS SERIES
THE BEAUCHAMP FAMILY SERIES
DID YOU KNOW...
... that Pilot was originally shot in Wilmington, North Carolina, and that some scenes were shot again in Vancouver due to casting changes?
... that two actors from Charmed have played in Witches of East End? Those are Eric Winter and Michelle Hurd.
... that Isis is the name of an Egyptian Goddess, whereas the show is based on Norse mythology?
... that there is a total of six characters who crosses between the two different book series? These are: Freya Beauchamp, Mimi Force, Oliver Hazard-Perry, Trinity Force, Helda and Arthur Beauchamp.
... that in Norse mythology, Loki and Baldr are not brothers? Only Thor and Baldr are half-brothers, whereas Loki is a giant unrelated to Odin.
---
DISCOVER
WITCHY POLL
What storyline are you most looking forward:
---